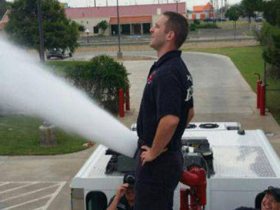 Random good picture Not show
1. We're ten pounds out in our accounts.
2. The Rolling Stones were pounding out one of their old numbers.
3. Nobody pounds out a tune on the piano quite like her.
4. That one mistake left him thousands of pounds out of pocket.
5. All morning I've been pounding out letters on the typewriter.
6. Rock music was pounding out from the jukebox.
7. Lungs pounding out torrents of frozen breath, we speed down narrow forest corridors, then burst into dazzling clearings.
8. The keyboarder5 particularly hate him, pounding out anger with every stroke.
9. She shifted restlessly beneath him, her heart pounding out of control as she registered the powerful interplay of muscle and sinew.
10. Yet he staged an amazing comeback to pound out a points win.
11. Two of the men were in shirts, sweating, pounding out beer after beer.
12. John's heart was pounding out of his chest.
13. I leave a few voice mails and pound out a few more pages.
14. I pound out articles now and then.
15. The girl wheedled a pound out of her father.
16. It took all afternoon to pound out the bent wheel into shape.
17. Features you can use to pound out better code more quickly include things like the Surround With menu and help for catching null references.Sentence dictionary
18. I am filled with proundly emotion to the future, I would like to pound out the two new songs of life in the next year-ENTERPRISE AND LOVE!
19. I still fall into that trap every once in a while and I have to force myself to sit down and pound out a few pages of a short story.
More similar words:
round out,
sound out,
a pound of flesh,
pound,
impound,
pounder,
compound,
expound,
undoubted,
poundage,
pounding,
propound,
undoubtedly,
pound cake,
compounded,
expounder,
decompound,
redound,
compound eye,
expounding,
compounding,
compound rate,
impoundment,
compound word,
compound leaf,
british pound,
round off,
bound off,
round-off,
sound off.