Synonym:
dock,
harbor,
pier,
wharf.
Similar words:
report,
support,
export,
import,
portion,
portray,
airport,
report on.
Meaning: [pɔrt /pɔːt] n. 1. a place (seaport or airport) where people and merchandise can enter or leave a country 2. sweet dark-red dessert wine originally from Portugal 3. an opening (in a wall or ship or armored vehicle) for firing through 4. the left side of a ship or aircraft to someone facing the bow or nose 5. (computer science) computer circuit consisting of the hardware and associated circuitry that links one device with another (especially a computer and a hard disk drive or other peripherals). v. 1. transfer data from one computer to another via a cable that links connecting ports 2. put or turn on the left side, of a ship 3. bring to port 4. land at or reach a port 5. turn or go to the port or left side, of a ship 6. carry, bear, convey, or bring 7. carry or hold with both hands diagonally across the body, especially of weapons 8. drink port. adj. located on the left side of a ship or aircraft.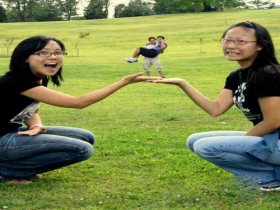 Random good picture Not show
1. The port is vital to supply relief to millions of drought victims.
2. Any port in a storm.
3. We went ashore when the boat reached the port.
4. The vessel reached port the next morning.
5. The whisky was taken to bonded warehouses at Port Dundee.
6. Craft of all kinds come into this port.
7. This is an excellent port being secure from every wind.
8. Planes, ships, and artillery bombarded the enemy port.
9. The ship spent four days in port.
10. We left port and headed for the open sea .
11. There is a longstanding prostitution trade in the port.
12. Their first port of call will be Cape Town.
13. It has now become an important port.
14. The port is closed to all shipping.
15. Many ships coal at this Port.
16. A group of rebels overran the port area and most of the northern suburbs.
17. When foul weather fogged the port, the ships anchored outside.http://Sentencedict.com
18. We stopped for the night in Port Augusta.
19. The port had been attacked by German dive bombers for the past five days.
20. The ship calls in at every port along the coast.
21. Rockets and shells continued to hit the battered port.
22. He asked for a glass of port after dinner.
23. The ferry was about to leave port.
24. The ship spilled oil while in port.
25. The ship ploughed through the sea toward port.
26. Our first port of call was the chemist's.
27. The ship embarked passengers and cargo at New York port.
28. A fitting end to the meal would be a glass of port.
29. The hotel is situated next to the lively bustling port.
30. We'll have two days ashore while the ship is in port.
More similar words:
report,
support,
export,
import,
portion,
portray,
airport,
report on,
reporter,
portrait,
supporter,
supportive,
transport,
portfolio,
reporting,
important,
in support of,
reportedly,
proportion,
importantly,
opportunity,
of importance,
in proportion to,
transportation,
active transport,
pork,
porch,
corporate,
incorporate,
north.