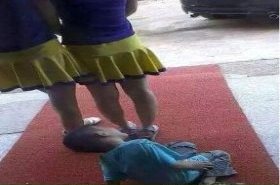 Random good picture Not show
1. We drink pitcher plant, all same like monkey.
2. Capable of trapping and absorbing insects, as the pitcher plant.
3. But he thinks other pitcher plant processes — predator-prey interactions, mutually beneficial species, the effects of disturbance — are found across ecosystems.
4. "Everything that happens in a pitcher plant happens at a larger scale, " said Holt. "There's a tremendous amount of information in there."
4. Sentencedict.com try its best to collect and make good sentences.
5. And one way to think about pitcher plants is as a modest-scale island, " said Robert Holt, an eminent University of Florida ecologist who's tracked the pitcher plant work.
6. Each of the cuplike traps on an Attenborough's pitcher plant (Nepenthes attenboroughii's) is as big as an American football—making the pitchers among the largest known.
7. Sensing food, a roach peers into a two-foot-tall pitcher plant.
8. In Borneo and Malaysia, the Nepenthes pitcher plant traps insects using a jug-shaped attachment, or pitcher, at the end of its leaves.
9. I was shocked to find a species of pitcher plant called Nepenthes mirabilis var.
10. Deadly beauty, the pitcher plant traps insects in its fluid-filled cup, where they drown.
11. In Sarawak, travelers will visit Bako National Park, known for its birds, primates and pitcher plants.
12. A spherical lampshade with holes modeled after the infamous Pitcher plant lures flies in, but they are unable to escape and eventually fall into the bottom of the light, where they become fuel.
13. Tadpoles of a new species of micro-frog swim in a Bornean pitcher plant.
14. Other featured creatures include a fangless snake, a frog that chirps like a cricket, and a pitcher plant that traps insects and grows to a height of over seven metres.
15. A wolf spider treads perilously on the rim of a South American pitcher plant, perhaps looking to prey on insects drawn to the plant's strong nectar scent.
16. In this study, we present the patterns of genetic differentiation of pitcher plant populations based on chloroplast DNA haplotype analysis using the sequences of five spacers.
17. "You've got four or five trophic levels in a pitcher plant, just like you've got four or five trophic levels in a lake, " said Ellison.
18. Like figures in a shadow theater, silhouettes of prey show through a Philippine pitcher plant.
19. He wanted to work on the vegetation inventory for a pitcher plant bog he had going.
More similar words:
water plant,
power plant,
interplant,
nuclear power plant,
electric power plant,
hydroelectric power plant,
pitcher,
fever pitch,
pitched,
career plan,
master plan,
outer planet,
low-pitched,
high-pitched,
relief pitcher,
pitcher's mound,
air plant,
interplanetary,
propeller plane,
pitched battle,
kitchen island,
vascular plant,
chemical plant,
pitch,
overplay,
pitchy,
paper plate,
underplay,
power play,
interplay.