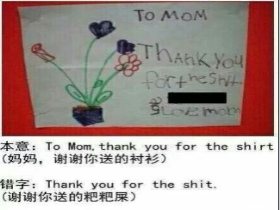 Random good picture Not show
1. He's at ease speaking pidgin with the factory workers and guys on the docks.
2. The inhabitants speak a kind of pidgin Spanish.
3. The restaurant owner could only speak pidgin English.
4. "He come here?" he asked in pidgin English.
5. Under certain circumstances, however, children may learn a pidgin as their first language.
6. As children acquire the pidgin, they use it with playmates and other children in their peer group.sentencedict.com
7. This proto-Chinglish term "pidgin" originated as a Chinese mispronunciation of the English word "business".
8. Therefore, the status quo of Post - Pidgin stays at a relatively low level.
9. In pidgin English, he is the namowen ( number one ) on the port.
10. Fang , Bubi , Ibo, and pidgin English are also widely spoken.
11. Language: English is the official language, but Melanesian pidgin is much more widely used. There are approximately 120 native languages.
12. The inflexionless, easy-to-learn pidgin language is a sort of linguistic variation purposefully created for the communication between one group and the other, usually for the sake of mutual trading.
13. The doctor spoke some pidgin Vietnamese, and the nurse a smattering of highschool French.
14. As to'Post - Pidgin 'English , its history is not long Nearly in late 1990 s, some articles about it appeared.
15. Chinook Jargon:a pidgin language combining words from Nootka, Chinook, Salishan languages, French, and English, formerly used as a lingua franca in the Pacific Northwest.
16. That would be someone else's pidgin; I'm not too knowledgeable in that respect.
17. Creoles: A creole language is originally a pidgin that has become estabished as a native language in some speech community.
18. This is not his pidgin.
19. I tried to get my message across in my pidgin Italian.
20. She wanted more than the two dimensions of pretty pictures, more than the garbled pidgin of kitchen natives.
21. There is space here only to summarise very briefly the large amount of research on pidgin and Creole languages.
22. The island community Nichols studied traditionally spoke Gullah, a creole variety developed from the African/English pidgin of early slave plantations.
23. And after the 1730 s, the English - based languages ( mainly the Chinese pidgin English ) played the main role.
More similar words:
dodging,
grudgingly,
midget,
ridge,
bridge,
fridge,
smidgen,
abridge,
rapid,
vapid,
tepid,
cupid,
abridged,
partridge,
stupid,
torpid,
bridge over,
drawbridge,
insipid,
rapidly,
epidemic,
intrepid,
epidermis,
trepidation,
dilapidated,
dilapidation,
begin,
dig in,
drag in,
ginger.