Synonym:
Madagascar pepper,
Piper nigrum,
black pepper,
capsicum,
capsicum pepper plant,
common pepper,
pelt,
peppercorn,
white pepper.
Similar words:
keep pace with,
upper,
happen,
appear,
appeal,
appeal to,
happen to,
disappear.
Meaning: ['pepə(r)] n. 1. climber having dark red berries (peppercorns) when fully ripe; southern India and Sri Lanka; naturalized in northern Burma and Assam 2. any of various tropical plants of the genus Capsicum bearing peppers 3. pungent seasoning from the berry of the common pepper plant of East India; use whole or ground 4. sweet and hot varieties of fruits of plants of the genus Capsicum. v. 1. add pepper to 2. attack and bombard with or as if with missiles.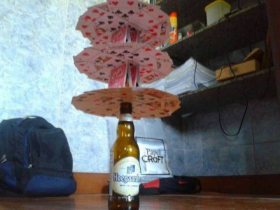 Random good picture Not show
1. Brush the aubergines with oil, add salt and pepper, and bake till soft. Meanwhile, heat the remaining oil in a heavy pan.
2. He put some pepper on his steak.
3. I bedashed a salad with pepper before dinner.
4. I'd like to add some pepper to the bean curd.
5. You don't have to pepper the soup.
6. He wanted a little more pepper to spice up his rump steak.
7. Season lightly with salt and pepper.
8. The officers blasted him with pepper spray.
9. This might need some salt and pepper.
10. He put some pepper in the bowl.
11. He burned his tongue with red pepper.
12. Shall I grind a little black pepper over your pizza?
13. Ginger, nutmeg, cinnamon, pepper and cloves are common spices.
14. I often sauce meat with pepper.
15. Peel off the blackened skin, flatten the pepper out and trim it into edible pieces.
16. Pepper makes food hot.
17. Store the peppercorns in an airtight container and grind the pepper as you need it.
18. Season with salt and pepper.
19. Can you taste pepper in the pudding?
20. The pepper in the food caused me to / made me sneeze.
21. Season the meat with salt and pepper.
22. The sauce was zapped with pepper.
23. Season the meat well with salt and pepper.
24. Taste the soup and add salt and pepper if necessary .
25. Season the steaks generously with salt and pepper.
26. Add tomato paste, salt and pepper to taste.
26. Sentencedict.com try its best to collect and create good sentences.
27. I order black pepper sirloin without any paprika.
28. Pepper and salt are condiments.
29. The pasta was served in a cream sauce spiked with black pepper.
30. Taste the soup and adjust the seasoning, adding more salt or pepper as desired.