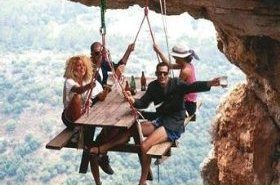 Random good picture Not show
1. Blend in the eggs, one at a time, beating well after each one.
2. If you raise your hands, I'll answer questions one at a time.
3. We had to go and see the principal one at a time.
3. Sentencedict.com is a sentence dictionary, on which you can find good sentences for a large number of words.
4. Beat in the eggs, one at a time.
5. Cross the road one at a time -- don't bunch up.
6. He chose to favour us one at a time and the others were left out in the cold.
7. Send it to one at a time and be prepared to wait a good while for a reply.
8. Four lawyers whisk through this small outer room, one at a time, always rushing, never speaking.
9. In which free-lance warriors are selected one at a time to carry out a dangerous mission.
10. One at a time as they turned the bend, Ezra watched their faces stretch.
11. These factors will be taken one at a time, and the scientist will set up experiments to test them.
12. In each case contestants are voted out one at a time by their colleagues and by viewers until just two are left.
13. He advocates marking the stretchers off one at a time instead of squaring cross all four at once.
14. It's not easy taking my problems
one at a time
when they refuse to get in line.
Ashleigh Brilliant

15. At medium speed, beat in eggs, one at a time, beating for two minutes after each addition.
16. It sometimes helps to deal with problems one at a time, so the goals seem attainable.
17. Add the eggs, one at a time, mixing thoroughly with each addition.
18. Beat in eggs one at a time, using a rotary beater, until satiny and fluffy.
19. They then return, one at a time, for cross-examination by the prosecuting counsel.
20. Don't crowd in on me, I will see your books one at a time.
21. She checked the labels, shook her head, tossed the bottles back one at a time.
22. Cream the butter and sugar and beat in the eggs, one at a time. Fold in the flour and almonds.
23. Serial multipartnerism, which can also be called serial monogamy, means having partners one at a time.
24. Are you so anxious to know what it feels like to have both eyeballs gouged out, one at a time?
25. Users can send as many love missives as they like, one at a time.
26. The techniques of control used in contingency tables involved literally holding a variable constant by considering its categories one at a time.
27. The ovaries will begin to produce their eggs and discharge them, normally one at a time about once a month.
28. In reality, however, even when the electrons are sent one at a time, the fringes still appear.
29. Variables were entered into or removed from the logistic regression equation one at a time.
30. The stairs were so narrow, that with more students coming up, his had to file down one at a time.
More similar words:
at a time,
at any time,
at all times,
from time to time,
for a time,
delineation,
dilatation,
time and time again,
once upon a time,
beat a retreat,
prime time,
erythrocyte sedimentation rate,
neat,
neatly,
beneath,
time,
neatness,
eat away,
times,
delineate,
eatable,
not at all,
cantata,
underneath,
time off,
time out,
time-out,
on-time,
in time,
timeout.