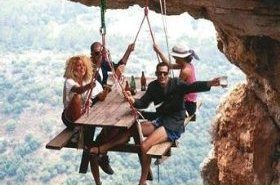 Random good picture Not show
1. The police observed a man enter the bank.
2. She observed that all the chairs were already occupied.
3. All the characters in the novel are closely observed .
4. The microscope capacitates small objects to be observed.
5. They observed him entering the bank.
6. You again how boethius observed all still could not return to the origin.
6. Sentencedict.com try its best to collect and create good sentences.
7. Scientists have observed a drop in ozone levels over the Antarctic.
8. He documented the destruction he observed during the Cosovo War.
9. He was observed to follow her closely.
10. Have you observed any changes lately?
11. They carefully observed the behavior of deer.
12. He observed well on her unusual appearance.
13. She observed the gentle movement of his chest as he breathed.
14. When I was young, I observed that nine out of ten things I did were failures, so I did ten times more work.
15. The patients were observed over a period of several months.
16. Predators have been observed to avoid attacking brightly coloured species.
17. The regulations must be stringently observed.
18. The woman was observed to follow him closely.
19. He observed that honours do not always went to those who deserved them.
20. We observed a minute's silence out of respect for the disaster victims.
21. This phenomenon has been observed in both laboratory and field studies.
22. 'It may rain,' he observed.
23. She observed that he'd left but made no comment.
24. It was observed that 40 percent of patients had high blood pressure.
25. Keynes observed that humans fall into two classes.
26. Students observed the solution of sugar in tea.
27. Officers observed him driving at 90 miles per hour.
28. Cases of child cruelty occur more often than they are observed.
29. There was a firm rubric in the book about what had to be observed when interrogating anyone under seventeen.
30. Some scientists believe that there is about ten times as much matter in the universe as astronomers have observed.
More similar words:
observe,
observer,
reserved,
observation,
serve,
reserve,
serve as,
preserve,
obsequious,
nerve,
serving,
service,
intervention,
reservation,
conservation,
conservative,
social services,
dived,
absent,
perceived,
improved,
involved,
aggrieved,
subsequent,
obstacle,
subsequently,
obstinate,
curve,
carve,
obstreperous.