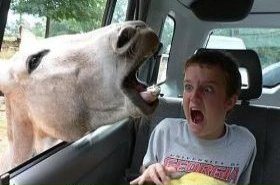 Random good picture Not show
1. Low consumer demand has forced us to mark down a wide range of goods, sometimes by as much as 30%.
2. A toy store has marked down the Sonic Hedgehog computer game.
3. Clothes are the best bargain, with many items marked down.
4. His work was marked down for untidy writing.
5. All goods have been marked down by 15%.
6. I wonder why these dresses have been marked down.
7. She was marked down because her answers were too short.
8. Winter coats have been marked down from $80 to $50.
9. Some of the sale goods have been marked down by as much as 30%.
9. Sentencedict.com try its best to collect and build good sentences.
10. I've marked down the number of each item sold.
11. Shares in the electricity companies were marked down following the announcement of the new energy tax.
12. The factory is already marked down for demolition.
13. The police have him marked down as a possible criminal.
14. I hadn't got him marked down as a liberal.
15. She was marked down because of poor grammar.
16. Students will be marked down for failing to follow directions.
17. Mark down everything you eat on your daily chart.
18. All the textile prices have been marked down.
19. We marked down the spot as a suitable place for camping.
20. For one day only the washer and dryer mark down another ten percent.
21. He made a note to mark down a few particular suggestions.
22. Retailers will have to mark down prices sharply to bring in sales.
23. Just a moment. Let me mark down your name and address.
24. Mark down the items and time of your breakfast and hang it outside the door.
25. Please mark down the number of the following industries which your company belong to.
26. If you saw a traffic accident,[sentencedict.com] make sure to mark down the licence of the car.
27. She shrieked at the sting of the blows, which left a red mark down one side of her face.
More similar words:
mark,
back down,
look down,
mark off,
market,
mark out,
remark,
marker,
track down,
knock down,
look down on,
breakdown,
break down,
drink down,
landmark,
marketing,
supermarket,
remarkable,
marketplace,
spark,
shark,
parka,
embark,
march,
parking,
maroon,
martyr,
marine,
marble,
marred.