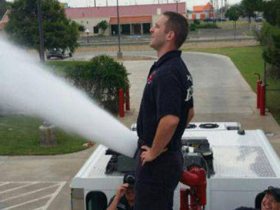 Random good picture Not show
(1) Narrow corridors lead off from the main hallway.
(2) Who is going to lead off?
(3) I'd like to lead off by thanking Rick for coming.
(4) He had a winning lead off the final bend.
(5) The treatment rooms lead off from the swimming pool.
(6) Who would like to lead off the debate?
(7) Smaller paths and lanes frequently lead off the main holloway, but even this may be narrow and insignificant by modern standards.
(8) The Nottinghamshire quadruple scull will lead off a procession of 500 crews.
(9) Is there anyone here who would like to lead off the debate?
(10) Three lanes lead off from it, four if you count the short length from the hospital.
(11) It came from a tributary passage that lead off from the main corridor at a curious angle.
(12) The other came after his walk to lead off the ninth with the score tied at seven.
(13) We asked the sales director to lead off with the latest sales figures.
(14) The exhaust opening of the device need not lead off to the external of building isolation region.
(15) Who will lead off by asking the first question?
(16) It was common practice to lead off the young ones[http://sentencedict.com/lead off.html], and teach them bad habits.
(17) Who is to lead off the discussion?
(18) We always let Jack lead off.
(19) He took a long lead off first.
(20) Whois lead off the discussion?
(21) Some developmental paths are blocked, while potentially novel ones lead off into uncharted terrain.
(22) Several units must discuss how to handle this matter. Who will lead off?
More similar words:
read of,
head off,
read off,
ahead of,
instead of,
head office,
get ahead of,
in stead of,
ahead of time,
head of state,
lead on,
ahead of the game,
lead ore,
ahead of schedule,
a load of,
pad of paper,
get a load of,
dead-on,
read out,
meadow,
head-on,
readout,
head on,
sea dog,
tread on,
spread out,
read over,
toreador,
see a doctor,
meadowlark.