Synonym:
blade,
sword.
Similar words:
manifest,
even if,
uniform,
life,
wife,
manifold,
for life,
significant.
Meaning: [naɪf] n. 1. edge tool used as a cutting instrument; has a pointed blade with a sharp edge and a handle 2. a weapon with a handle and blade with a sharp point 3. any long thin projection that is transient. v. use a knife on.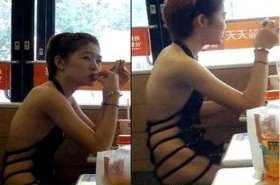 Random good picture Not show
(1) If the ox falls, whet your
knife
.

(2) A blunt
knife
may be sharpened on a stone, but if a man is stupid there is no help for his stupidity.

(3) We eat with knife and fork.
(4) The knife has a horn handle.
(5) Hold the knife at an angle.
(6) He used a knife instead of chopsticks.
(7) Trim rough edges with a sharp knife.
(8) A knife is sharpened on the grindstone; steel is tempered in fire.
(9) This knife cuts well, doesn't it?
(10) Stop fooling about with that knife of someone will get hurt.
(11) He made at me with a knife.
(12) The knife easily cut into the cake.
(13) His hand went limp and the knife clattered to the ground.
(14) He held the knife to her throat.
(15) She was confronted by a man wielding a knife.
(16) He slit open the envelope with a knife.
(17) There is no proof that the knife belonged to her.
(18) Can I stab at the meat with my knife to see if it is well cooked.
(19) The knife pierced through his coat.
(20) He jabbed at the lid with a knife.
(21) She was sawing the bread with a blunt knife.
(22) I cut myself on a knife.
(23) Trim off the excess pastry using a sharp knife.
(24) She was paring an apple with a knife when I came in.
(25) He wrested the knife from the murderer.
(26) Scrape the mud off your shoes with this knife.
(27) He picked up his fork and knife. Sentencedict.com
(28) The mad man came at us with a knife.
(29) After several attempts to untie the knot,(Sentencedict.com) I admitted defeat and cut through it with a knife.
(30) Peel a thick-skinned orange and square off the ends with a sharp knife.
More similar words:
manifest,
even if,
uniform,
life,
wife,
manifold,
for life,
significant,
lifelong,
to the life,
wildlife,
lifetime,
significance,
lifestyle,
come to life,
significantly,
personification,
proliferation.