Synonym:
absorbed,
aim,
captive,
design,
engrossed,
enwrapped,
intention,
purport,
purpose,
spirit,
wrapped.
Similar words:
intend,
intense,
intensity,
sentence,
maintenance,
enter into,
intervention,
a bone of contention.
Meaning: [ɪn'tent] n. 1. an anticipated outcome that is intended or that guides your planned actions 2. the intended meaning of a communication. adj. giving or marked by complete attention to.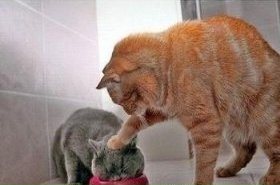 Random good picture Not show
1. He's intent on getting promotion, and no one's going to stop him!
2. She had an intent look on her face.
3. She was intent on pursuing a career in business.
4. His face filled with an intent curiosity.
5. What is the intent of that sentence?
6. He's intent on going to Australia.
7. They are clearly intent on maintaining standards.
8. It was their intent to micromanage the issues, to become part of the process.
9. The rebels are obviously intent on keeping up the pressure.
10. She behaved foolishly but with good intent.
11. He was clearly intent on inflicting serious harm on someone.
12. The act had a specific intent, to protect freed slaves from white mobs.
13. They seem intent on shutting their eyes to the problems of pollution.
14. There was an intent look on her face as she watched the game.
15. He was intent on the job he was doing.
16. I was so intent on my work that I didn't notice the time.
17. The bright brown eyes were intent on Marie.
18. He seems intent on upsetting everyone in the room!
19. They took to the water intent on netting the £250,000 reward offered for conclusive proof of the monster's existence.
19. Sentencedict.com is a sentence dictionary, on which you can find good sentences for a large number of words.
20. I hope you are intent on doing your best.
21. The company made a declaration of intent to follow an equal opportunities policy.
22. His plan is incompatible with my intent.
23. She was charged with intent to defraud.
24. Intent upon her work, she didn't notice the cold.
25. A merchant is intent on making money.
26. She seemed intent on destroying everything they had built up together.
27. She denies possessing the drug with intent to supply.
28. The police charged her with possessing a firearm with intent to endanger life.
29. He is charged with possession of a gun with intent to commit a robbery.
30. I've tried persuading her not to go but she's intent on it.
More similar words:
intend,
intense,
intensity,
sentence,
maintenance,
enter into,
intervention,
a bone of contention,
entertainment,
contend,
tent,
in tears,
painter,
Internet,
interact,
interval,
internal,
interest,
interior,
extent,
patent,
interrupt,
interview,
interpret,
interfere,
integrate,
in terms of,
integrated,
center,
listen to.