Synonym:
bark,
bawl,
bellow,
cry,
roar,
scream,
screech,
shout,
wail,
yell,
yelp.
Similar words:
bowl,
jowl,
fowl,
scowl,
prowl,
growl,
slowly,
bowler.
Meaning: [haʊl] n. 1. a long loud emotional utterance 2. the long plaintive cry of a hound or a wolf 3. a loud sustained noise resembling the cry of a hound. v. 1. emit long loud cries 2. cry loudly, as of animals 3. make a loud noise, as of wind, water, or vehicles 4. laugh unrestrainedly and heartily.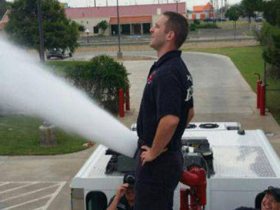 Random good picture Not show
1. A dog will not
howl
if you beat him with a bone.

2. Envy assails the noblest, the winds
howl
around the highest peak.

3. One must
howl
with the wolves.

4. He tossed back his head in a howl of berserk laughter.
5. He that lives with wolves will learn to howl.
6. The dog gave a mournful howl.
7. A sudden howl pierced the silence.
8. African hyena noted for its distinctive howl.
9. With a howl he leapt at his foe.
10. The child set up a howl.
11. She let out a howl of pain.
12. The eerie howl of the siren sent chills up her spine.
13. He gave a howl of pain.
14. Traditionalists may howl, but in today's world(sentencedict.com), cultural relativism rules.
15. It's not polite to howl down a speaker.
16. They wanted to howl me down, but I didn't take to heart.
17. He makes audiences howl with laughter .
18. With a terrible howl, he leapt forward and threw himself into the water.
18. Sentencedict.com try its best to gather and build good sentences.
19. The baby's howl turned to a high-pitched whine.
20. They listened to the howl of the wind through the trees.
21. He let out a howl of anguish.
22. She began to howl when he walked out of the door.
23. The dog let out a savage howl and, wheeling round, flew at him.
24. Upstairs, one of the twins began to howl .
25. With a howl of rage, he grabbed the neck of a broken bottle and advanced.
26. The wind would howl up the close entrances and whistle up the stairs.
27. He heard a howl which seemed to rise from the very bowels of the earth: long, cruel and haunting.
28. Who keeps company with the wolf will learn to
howl
.

29. She heard the wind whistling through the trees and the howl of a distant wolf.
30. The puttering echoed around us, mixing its hard metallic ringing with the howl of the wind.