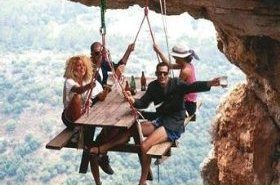 Random good picture Not show
1 This is a classic hail Mary pass.
2 The Steelers were one Hail Mary away from last rites.
3 Hail Mary, full of grace, the Lord is with thee.
4 They waited for the space of one Hail Mary, then ran out into the yard to call for Victorine.
5 Devil says,(www.Sentencedict.com) " Every Hail Mary is like a blow on my head. "
6 I have found the Hail Mary to be very effective at times of pain or physical discomfort.
7 Hail Mary, full of grace, the Lord is with you.
8 "Then on the four small beads say the "Hail Mary", adding after each, "Blessed be the pure, holy and immaculate conception of the Blessed Virgin Mary.
9 In the video "Hail Mary" released under the name Makaveli, there is a gravestone that says Makaveli.
10 Is this what they call a hail mary pass?
11 At the Mind/Body Medical Institute, participants elicit a "relaxation response," repeating a word - anything from "om" to "Hail Mary"--silently as they exhale.
12 " Hail Mary full of Grace the Lord is with thee.
13 Football players call this a "Hail Mary" play - when a losing team in the last seconds of the game desperately tosses the ball forward, hoping to score.
14 Repentance skindeep . Pray at an altar . Hail Mary and Holy Mary.
15 The gurgling resolved itself into words pronounced with a lingering ghastly quaver. "Hail Mary, Hara Ram, " Gold Teeth said, "the snakes are after me.
16 One concerned U. S. expert called the effort "a Hail Mary pass.
17 The deal would combine the second- and third-largest players in Web search. For Microsoft, it may be something of a Hail Mary pass, a last best attempt to catch Google while it still can.
18 They, in their own vernacular, had to throw the ball down field. Translation: Hail Mary.
19 Unless the geopolitics of global warming change soon, the Hail Mary pass of geoengineering might become our best shot.
More similar words:
retail market,
snail mail,
mailman,
civil marriage,
gilman,
oil man,
devil-may-care,
councilman,
ailment,
bailment,
derailment,
primary market,
hail,
curtailment,
palmar,
hallmark,
palmaris,
karl marx,
retail merchant,
thailand,
full marks,
hairtail,
hail from,
hailstone,
bill market,
schoolmarm,
bull market,
hailstorm,
chain mail,
local market.