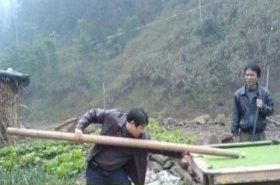 Random good picture Not show
(1) His voice was grimly determined.
(2) 'It won't be easy,' he said grimly.
(3) Much of Orwell's writing now seems grimly prophetic.
(4) Instead, she set her jaw grimly and waited in silence.
(5) In its very individual and grimly realistic way it is very romantic, but this is not pretty cinema!
(6) He smiled grimly and two minutes later his briefcase started ringing.
(7) During this period, also, Alistair had grimly got engaged to Hazel.
(8) Auguste regarded them grimly and with foreboding.
(9) His pursuer smiled grimly, and waited as many seconds as he dared before heaving himself over the wall with surprising agility.
(10) Sensing his authority had ebbed, Fujimori grimly took the only exit left: political suicide, a move that stunned everyone.
(11) Grimly, Auguste marched back through the tent into the kitchen, with a contrite Boris trailing behind.
(12) Understanding, the clansmen joined grimly in the chorus.
(13) An astonished officer found him still clinging grimly to the controls as he trundled along at a snail's pace.
(14) How do water-babies drown?-With some difficulty, Nora says grimly.
(15) At least, I thought grimly, it was a calm day.
(16) Riven hung on to his mount's bridle grimly whilst it bucked and reared in a desperate effort to get away.
(17) " We failed, " he announced grimly.
(18) Almost as a reflex[http://Sentencedict.com], he smiled grimly to himself.
(19) With Masklin hanging on grimly, Grandson Richard pushed his way through the throng.
(20) Grimly he started to sing an old war-song, to lift the weight that lay on them all.
(21) The mystery was in all of their thoughts as silently and grimly they came alongside.
(22) Perhaps nothing can bring about racial equality, Wicker notes grimly.
(23) Well, if Isabel had any ideas of playing on that one unguarded remark she could think again, he vowed grimly.
(24) No merciful sudden death for that poor romantic young fool, he thought grimly.
(25) Only through such an accidental, miraculous chance could anyone expect to shake off the yoke of grimly limited prospects.
(26) "The lawyers distorted what I wanted to say," recollects Hansen grimly.
(27) She'd suffered enough traumas and indignities already, she thought grimly.
(28) Plus a connoisseur's collection of toy cars, Ashley thought grimly.
(29) He was welcome to the food in the pantry, she thought grimly, resisting the temptation to hope it choked him.
(30) One of them dropped into a formal curtsey, revealing both her cleavage and her undergarment, and he smiled grimly.