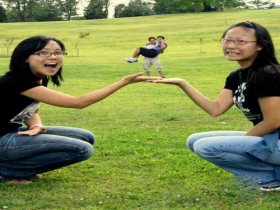 Random good picture Not show
(1) The pampas are still among the most fecund lands in the world.
(2) It has now become clear how extraordinarily fecund a decade was the 1890s.
(3) Indeed, many of the women were unusually fecund.
(4) And its business, of course, at this fecund point of the year, was that of survival - survival and reproduction.
(5) You can smell the fecund rot of the jungle in every headline.
(6) Certain questions were asked only of currently married fecund women.
(7) The result was that Dahomean kings were very fecund, while ordinary Dahomean men were often celibate and barren.
(8) Kingsolver's fecund prose is always reader-friendly, though we are directed to her messages with too heavy a hand.
(9) With fecund and loose with the arenaceous qualitative soil with good drainage had better.
(10) The requirement lives in fecund(sentencedict.com), loose sandiness soil.
(11) Hope rawish sprout planting in fecund Ta Ti, Grown emerald green branches and leaves.
(12) Large animals are less fecund than small ones.
(13) This is a fecund animal.
(14) They have a fecund soil.
(15) The ultimate evolutionary victory, on the theistic hypothesis, does not go to the most ruthless exterminators and most fecund replicators.
(16) One of these was the forceful Bantam, pre-eminent among the fecund Marshend females.
(17) The large, redbrick vicarage was built in the days of more fecund clergy.
(18) Not quite strict to edaphic requirement, but with the loam with loose, fecund, good drainage had better.
(19) The requirement contains a lot of humus, loose and fecund, the soil with good drainage.
More similar words:
fecundity,
pecuniary,
jocund,
rubicund,
underground,
lacuna,
cunning,
round and round,
defect,
effect,
affect,
perfect,
affected,
effected,
imperfect,
in effect,
infected,
defecate,
recur,
cecum,
recuse,
infection,
defective,
life cycle,
effective,
affection,
secure,
infectious,
take effect,
side effect.