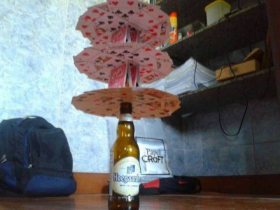 Random good picture Not show
1. Time is the fault of fatalistic testimony people.
2. Being fatalistic about your chances will do no good.
3. People we spoke to today were really rather fatalistic about what'sgoing to happen.
4. An unfamiliar note of fatalistic caution.
5. I do not mean to appear fatalistic, self-pitying, cynical, or maudlin....
6. Emma was fatalistic about her future.
7. This ambivalence may regress into a fatalistic view of herself and her future.
8. There is no reason to be fatalistic.
9. The fatalistic apathy that this creates becomes a part of the induced passivity that I have seen in thousands of illiterate adults.
10. He gave a fatalistic shrug. " Bad luck , " he said to Hagen.
11. Add to that fatalistic attitudes, inadequate emergency services,(sentencedict.com) slack (or corrupt) law enforcement and an often startling array of human and motorised traffic moving at different speeds.
12. That same positively fatalistic approach has strengthened him these last six weeks.
13. I think you have to be fatalistic when evaluating these things.
14. He seemed both rueful and fatalistic about his prospective eminence.
15. Our sports, in this rather happy, no fatalistic view of human nature, are more splendid creations of the no datable, trans-species play impulse.
16. Although many Asian concepts of karma are fatalistic, the early Buddhist concept was not fatalistic all.
17. Ev'ry street lamp seems to best a fatalistic warning.
18. Every street lamp seems to beat a fatalistic warning. Someone mutters and a street lamp gutters.
19. Karma is not fatalistic or predetermined. Karma means our ability to create and to change.
20. Characteristically, the patriarchy thesis generates a revolutionary ideology rather than a fatalistic acceptance of determinism and relativism.
21. Her ongoing ordeal is hardly a picnic, but her fatalistic humor gets her through.
22. They were all too kind to snigger but Suzi distinctly saw fat Luiza shrug her shoulders in a gesture of fatalistic despair.
23. She reread Howard's End, twice, it was so beautifully fatalistic, she said, it suited her present mood.
23. Sentencedict.com is a online sentence dictionary, on which you can find good sentences for a large number of words.
24. She tells Mitchum that they belong to each other, and he, fatalistic to the last, appears to go along.
25. They get the argument out of a tight corner, and make for a less fatalistic scenario.
26. Graduates who attend them seem to be becoming increasingly fatalistic that they will go away empty-handed.
27. I shall never forget Jordi's face, his rueful smile, his fatalistic shrug as he was pushed into the car.
28. For her own part, she was filled with neither hope nor dread, rather a fatalistic inability to foresee the future.
29. Besides the fanatical frenzy, which is as dangerous in a man as hydrophobia in a dog, there is this fearful fatalistic apathy.
30. The sea as an inscrutable force behind life reflects his fatalistic and depressing life attitude.
More similar words:
fatalism,
realistic,
cabalistic,
ritualistic,
materialistic,
ballistic,
fatal,
femme fatale,
capitalism,
royalist,
idealist,
journalist,
specialist,
naturalist,
federalist,
minimalist,
philistine,
nationalist,
eristic,
artistic,
sadistic,
transcendentalism,
existentialism,
statistic,
armistice,
federalist party,
optimistic,
statistics,
monotheistic,
altruistic.