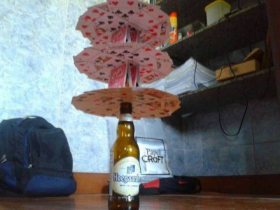 Random good picture Not show
(1) Tenants who fall behind in their rent risk being evicted.
(2) He didn't want to fall behind in his studies.
(3) You'll fall behind in your studies if you keep missing school.
(4) You must work hard, otherwise you will fall behind in students. Sentencedict.com
(5) Being addicted to computer games makes him fall behind in his class.
(6) Development of the students' space idea fall behind in development of intelligence.
(7) I don't want to fall behind in my bills.
(8) You shall fall behind in your exam if you keep playing.
(9) In later years, girls fall behind in physics and sciences where spatial ability is vital.
(10) The level of provisions could begin to drop next year as fewer families fall behind in their home loan payments.
(11) Those who think they have learned enough are the semi-educated fools, and shall
fall behind in
the competitive world.
Dr T.P.Chia

(12) The exploitation of the urban rainwater resources has already studied and availably used in foreign country, which was fall behind in our country.
(13) I'm breaking my neck at two jobs so I don't fall behind in my bills.
(14) The children of America are not those kids, they are our kids, and we will not let them fall behind in a 21st century economy.
(15) The risk is that by focusing an entire generation of bright young entrepreneurs on such silly things, we'll fall behind in creating the fundamental building blocks of our economy.
(16) "If Egypt freezes its programme now because of the Fukushima nuclear disaster it will fall behind in many science research fields for at least the next 50 years, " she warned.
(17) General Electric Co. (GE) Chief Executive Jeff Immelt warned the lack of an energy policy and the 'stupid' current structure of the industry is causing the U.S. to fall behind in new energy fields.
(18) For American Express, having "bad" customers —people who frequently fall behind in their payments, or who don't use their accounts —was impeding its ability to seek and serve the more lucrative ones.
(19) When children with hearing loss try to learn in a noisy, unsupportive classroom environment, they can quickly fall behind in their educational efforts.
(20) While exchange students can learn many useful things, it is also possible that some of them may fall behind in their studies.
(21) Starting 25 years ago, the United States started to fall behind in relative terms.
(22) She urges parents to read to children from an early age so they do not fall behind in school.
(23) Educators and psychologists have long feared that children entering school with behavior problems were doomed to fall behind in the upper grades.
(24) How to inherit Chinese medicine innovatively and develop it so that it will not fall behind in medicine competition?
(25) At present, although the modern consumption concept has come to be accepted by people, our citizens still fall behind in areas such as the consumption idea, skill, behavior and so on.
More similar words:
fall behind,
behind,
get behind,
behindhand,
leave behind,
behind the times,
behind schedule,
behind the scenes,
spellbinding,
well-behaved,
well behaved,
fall between two stools,
finding,
winding,
binding,
grinding,
findings,
unwinding,
blindingly,
self-winding,
vending machine,
wind instrument,
pallbearer,
rugged individualism,
well-being,
wellbeing,
fall back,
fallback,
fall back on,
fall by the wayside.