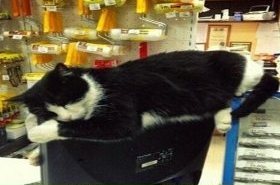 Random good picture Not show
1,
Eat at
pleasure, drink with measure.

2, Try to eat at least four slices of bread a day.
3, We'll eat at eight. Does that sound all right to you?
4, Let's eat at the drive - in tonight.
5, They eat at the same restaurant every week.
6, Try to eat at least one piece of fruit a day.
7, We'll eat at whichever restaurant has a free table.
8, As darkness fell outside, they sat down to eat at long tables.
9, Some children refuse to eat at all and others overeat.
10, We could not afford to eat at Walker's very often.
11, Let's have a fling and eat at that expensive restaurant for a change.
12, They can afford to eat at first-class restaurants.
13, It was quite pleasant to eat at this stage - the curds and whey of the Little Miss Muffet nursery rhyme.
14, They would eat at a table set in a recess, facing a window.
15, I will eat at home.
16, Any worker may eat at any of the canteens or special selection dining rooms.
17, We'll eat at seven o'clock.
18, We eat at noon.
19, I would binge and vomit or just not eat at all.
20, We usually eat at seven o'clock.
21, On her first night she went to eat at Rosalie's, the cheap restaurant Epstein had recommended.
22, Did you eat at home or are you a junkie?
23, Once in a while we go to a restaurant but usually we eat at home.
24, I don't need to binge any more - I can have plenty to eat at mealtimes.
25, If the agouti finds one,[http://sentencedict.com/eat at.html] it is likely to find far more than it can eat at a single sitting.
26, This second apple ring was always saved for her to eat at the end of the meal.
27, You always end up with grains of sand in your food when you eat at the beach.
28, Occasionally we go out to restaurants, but mostly we eat at home.
29, They would shake their heads at the poverty of our taste and technology; they would much rather not eat at all.
30, Because of the long chow line in the school cafeteria, we decided to eat at a nearby restaurant.
More similar words:
great at,
one at a time,
meat and potatoes,
go off at a tangent,
beat a retreat,
tatar,
eat away,
not at all,
cantata,
eatable,
treat as,
ataturk,
at a time,
beatable,
beat about,
great ape,
tea table,
data type,
frittata,
great-aunt,
uneatable,
treatable,
catatonia,
catatonic,
rotatable,
neat as a pin,
unbeatable,
repeatable,
parastatal,
natatorium.