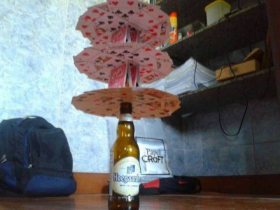 Random good picture Not show
1)
Drunken
days have all their tomorrows.

2) All drunken days have their tomorrows.
3) His drunken outbursts during the mayor's speech were inexcusable.
4) The pain roused him from his drunken stupor.
5) He had been in a drunken street brawl.
6) His father was a drunken brute.
7) She was often beaten by her drunken husband.
8) The drunken man teeteredon the edge of the pavement.
9) The mobs of drunken men are whooping it up upstairs.
10) Drunken football fans rampaged through the streets.
11) He was killed by a drunken driver.
12) She was lying in a drunken stupor on the sidewalk.
13) After a night of drunken revelry they ended up in the dock.
14) He was brought up on a charge of drunken driving.
15) The drunken man was a dead weight in my arms.
16) Groups of drunken hooligans smashed shop windows and threw stones.
17) Drunken driving can be punished with a prison sentence.
18) He mimed the part of a drunken man.
19) Every year at Christmas drunken driving takes its toll.
20) What shall we do with the drunken sailor?
21) Leave the lady alone,[http://sentencedict.com/drunken.html] you drunken oaf.
22) He fell back onto the sofa in a drunken stupor.
23) The drunken driver ran his car into a tree.
24) He left the pub with a drunken stagger.
25) Sally was used to his disjointed, drunken ramblings.
26) He came home to find her in a drunken stupor.
27) His drunken behaviour was extremely objectionable.
28) He smiled politely as Mary apologized for her drunken friends.
29) Peter has been brought before the court on a charge of drunken driving.
30) As the whisky took effect, he gradually fell into a drunken stupor.