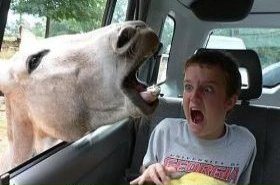 Random good picture Not show
1, Naturally, transport for the evacuation was inadequate for the needs of the displaced people.
2, It also addressed the issue of the return and reintegration of refugees and displaced people.
3, And weren't defectors like displaced persons, small and shabby with cardboard suitcases.
4, More than half of the displaced persons live in camps with inadequate shelter.
5, The aftermath of the war left many displaced persons, and towns would fine vagabonds for entering their portals.
6, Displaced people from rural areas face even greater obstacles.
7, The illegal settlement housed some 30,000 displaced people, mainly from the south of the country.
8, The location of a displaced person camp may range from a spontaneous settlement over a wide area, to an organized rural settlement, to a concentration in a very limited area.
9, The environment in a displaced person emergency is conducive to the proliferation of disease-carrying insects and rodents (vectors) that can also destroy or spoil large quantities of food.
10, Displaced person camps are often overcrowded, use light and highly combustible shelter materials, and have many individual cooking fires.
11, Even a displaced person with no prior experience can be a very effective health worker following basic on-the-spot instructions in a few relevant tasks.
12, In a displaced person emergency, sanitation facilities to which they were accustomed are no longer available.
13, Displaced person health care must include preventive and curative measures.
14, The elation of witnessing birth may be followed by a sense of disorientation at being a displaced person.
15, The prefecture buildings on Kinkala's central square are also full of displaced persons.
16, By now she had the look of a refugee, a displaced person.
17, In a particular kind of way, the Indian was our first displaced person.
18, In addition, secure camps tend to remain in existence for more than 6 to 9 months; that is, displaced person situations tend to exist much longer than desired or anticipated).
19, This is important as the mortality rate after a new displaced person influx may be higher than under normal conditions.
20, Neither prefabricated buildings nor specially developed emergency shelter units have proved effective in displaced person emergencies.
21, Housing should meet the cultural and social requirements of a displaced person 's home.
22, Measures to prevent and control fires must be considered from the start of emergency assistance at displaced person camps.
23, As with cholera vaccine,(http://sentencedict.com/displaced person.html) typhoid immunization is not recommended in displaced person situations or following natural disasters.
24, The foreigner as colonist were special crowd of modern Shanghai' nonnative population, the displaced person form other regions were the most important part of modern Shanghai' nonnative population.
25, TB requires prolonged treatment that is unlikely to be completed in an emergency displaced person situation.
26, Nevertheless, suitable arrangements for the disposal of the dead are required from the start of a displaced person emergency.
More similar words:
misplaced,
displace,
displacement,
displaceable,
displacement reaction,
misplace,
old person,
second person,
display,
placed,
on display,
display case,
display board,
dramatis personae,
computer display,
interactive display,
personality disorder,
misplay,
laced,
person,
displease,
persona,
displeased,
personal,
in person,
emerson,
displeasing,
displeasure,
layperson,
personate.