Synonym:
determine,
judge,
resolve,
settle.
Antonym:
hesitate,
pause,
waver.
Similar words:
decide on,
decision,
incident,
by accident,
side by side,
acid,
deck,
declare.
Meaning: [dɪ'saɪd] v. 1. reach, make, or come to a decision about something 2. bring to an end; settle conclusively 3. cause to decide 4. influence or determine.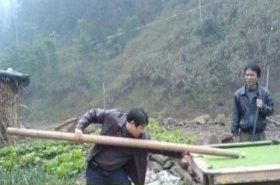 Random good picture Not show
1. The prime minister may decide to call an early election.
2. The team's first task was to decide what equipment could be salvaged.
3. It is the Prime Minister's prerogative to decide when to call an election.
4. Employers usually decide within five minutes whether someone is suitable for the job.
5. Decide what you want to do; don't just imitate others.
6. I shall decide for going abroad later.
7. They wait for the group to decide rather than making individual decisions.
8. She couldn't decide whether he was telling the truth or not.
9. We'll decide on our team as and when we qualify for the competition.
10. I will engage for his behavior should you decide to employ him.
11. Think it over carefully before u decide.
12. We have to decide what to do.
13. We must size up the situation before we decide what to do.
14. They have to decide by next Friday.
15. We hope that more women will decide to join the course.
16. What made you decide on a career as a vet?
17. You decide who's going to start by throwing the dice.
18. If you decide to sell your car(http://Sentencedict.com),[sentencedict.com] I hope you'll give me first refusal.
19. A plebiscite was held to decide the fate of the country.
20. I'm still unable to decide what to do.
21. If the Conservatives got in they might decide to change it.
22. Reckon the cost before you decide.
23. Decide at the outset what kind of learning programme you want to follow.
24. Decide to be happy every day.
25. In the first place, we should decide on one program.
26. The people may safely be trusted to hear everything true and false, and to form a correct judgment,Were it fall to me to
decide
whether we should have a government without newspapers of newspapers without a government, I should not hesitate a moment to prefer the latter.

27. You are such a talented and smart member of our team and we are truly grateful of having you. Though, you decide to walk an extra mile we are always here to support you. We just wish you more success on your new endeavor. Thank you because the way you motivate us is something remarkable.
28. So do all who live to see such times. I wish none of this had happened. But that is not for them to decide. All you have to decide is what to do with the time that is given to you.
29. You have pondered long enough; it is time to decide.
30. The game is poised on a knife-edge. One mistake or one piece of good luck could decide it.
More similar words:
decide on,
decision,
incident,
by accident,
side by side,
acid,
deck,
declare,
decent,
decade,
decline,
decorum,
recipe,
decorate,
decrepit,
decrease,
precise,
species,
specify,
special,
deceptive,
specific,
especially,
specialty,
precisely,
recipient,
specialize,
specialist,
specifically,
decaffeinated.