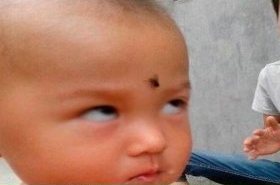 Random good picture Not show
1, Another is a systemic disease called cytomegalic inclusion disease that mainly infringe small baby .
2, Objective Using the testing method of cytomegalic inclusion, we discuss the relation between cytomegalovirus infection and neonatal jaundice.
3, Objective To analyze CT findings of intracranial changes in children with congenital cytomegalic inclusion disease (CID) and to propose the diagnostic gist from the review of related literatures.
4, Conclusion The enlargement of lateral ventricles and lineal calcified shadows in brain tissue are specific CT findings for cytomegalic inclusion disease.
5, Methods The expressions of immediate early antigen of HCMV, pan cytokeratin and cathepsin D etc. were detected by immunohistochemical staining in tissues of parotid cytomegalic inclusion disease.
6, To present the physician-patient mutual action pattern in the diagnosis and treatment of the congenital cytomegalic virus infection of neonate and in the prevention of pediatric diseases.
7, The author reports the result of treatment on 17 cases cytomegalic inclusion disease with TCM C.
More similar words:
cytomegalovirus,
acromegalic,
hepatomegaly,
cytometer,
megalith,
acromegaly,
megalithic,
splenomegaly,
cardiomegaly,
cytomembrane,
hepatosplenomegaly,
megakaryocyte,
omega,
megalopolis,
megalomania,
astrocytoma,
omega-3,
megalomaniac,
megaloblastic,
cytochrome,
home game,
megalomaniacal,
cytomorphology,
pheochromocytoma,
play to the gallery,
megaloblastic anemia,
alpha and omega,
the alpha and omega,
omega-3 fatty acid,
regalia.