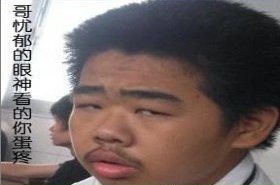 Random good picture Not show
1. Intense pulsed light with the specific spectrum penetrate cutis, be transformed to heat.
2. Saw these two cutis playing around when we were waiting for the opening.
3. Objective To improve the cutis laxa and pendulous skin of the pars buccalis, lower mandible and labial commissure through the suspension of SMAS with small incision in the front of antilobium.
4. Neither cellulitis nor tuberculosis verrucosa cutis relapsed during the follow - up of 3 years.
5. The researchers suspect cutis is found in soil and water everywhere on Earth, except Antarctica.
6. The round bar to be cutis fixed and the grooving tool is rotating with spindle, in the meantime, the tool is fed in radially.
7. As shown in published literatures, aplasia cutis congenita (ACC) is an uncommon anomaly among newborns and is often overlooked when the lesion is small.
8. It can repair xerosis cutis.
9. The histopathologic feature of the nodule was consistent with characteristics of leukemia cutis.
10. Conclusions The method of the expanded scalp flap is good and effective treatment for the cutis verticis gyrate.
11. Foot guard essence: It contains bio-grease, VE, VB and the other active factors. It can repair xerosis cutis, whiten and protect skin.
11. Wish you can benefit from sentencedict.com and make progress everyday!
12. We report this case and also review the literature, and then we suggest a checklist for aplasia cutis congenita.
13. Smoking is a predictive factor and sex, age, xerosis cutis, skin rash are relate to the response rate in advanced NSCLC patients.
14. The bone marrow and immunotyping of the cells revealed acute granulocytic leukemia cutis, type M2. The patient refused to be treated further after diagnosis.
15. Objective: To investigate the toxic effect of compound Daihuang ointment on cutis.
16. Objective To improve the level of treating and nursing patients with severe skin disease with cutis necrotize and exfoliate.
17. Results: All cases showed good result, with 3 cases of putrescence of cutis, 2 cases of looseness of needle, 2 cases of infection of needle, which recovered well after proper treatment.
18. The convoluted folds and deepenittg ferrous formed from thickened skin of and between the eyebrows resembled the pattern of cutis verticis gyrate which typically affected the scalp.
More similar words:
subcutis,
cutin,
cut in,
cut it,
cutie,
cut in on,
cut into,
cuticle,
locution,
cuticular,
executing,
execution,
allocution,
executive,
elocution,
cut it fine,
executioner,
persecution,
prosecution,
prosecuting,
consecutive,
top executive,
autism,
mutism,
loutish,
consecutively,
interlocution,
electrocution,
public utility,
flutist.