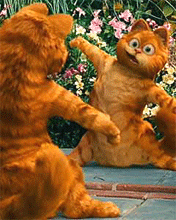 Random good picture Not show
1. Mike found a challenging job as a computer programmer.
2. She took the offensive, challenging her critics to prove their allegations.
3. Her lawyer is challenging the legality of the court order.
4. She performed the most challenging task without a mistake.
5. She was effectively challenging the whole basis on which society was run.
6. Liverpool are challenging for the title .
7. Teaching young children is a challenging and rewarding job.
8. This has been a challenging time for us all.
9. Society is challenging the traditional sexual division of labour.
10. It's a challenging job but I'm sure you'll prove equal to it.
11. The new current affairs series promises to address challenging issues with freshness and rigour.
12. He found the course academically challenging.
13. The college offers a challenging and stimulating environment in which to study.
14. Campaigners are challenging the safety of genetically-modified food.
15. My interests include anything adventurous or challenging.
16. Many enjoy the mental stimulation of a challenging job.
17. The new play poses some challenging questions.
18. If tasks are too challenging,(Sentencedict) the end result is that learners are discouraged.
19. Every teacher ought to be challenging kids to think about current issues.
20. The tasks were not challenging enough for me and I got bored.
21. He is challenging for the coach in the Football Club.
22. We have changed the course to make it more challenging.
23. He resigned from the company in order to take a more challenging job.
24. Believe that everything happens for a reason. Expect good things to come out of challenging experiences.
25. He left a note at the scene of the crime, challenging detectives to catch him.
26. Building a home from scratch can be both exciting and challenging.
27. I'm ready to do all those things which are more challenging.
28. Most of the discussion was on what needed to be done now as we transitioned from the security issues to the challenging economic issues.
29. This is a book full of profound, original and challenging insights.
30. On PC, the game had it all — imaginative storyline and characters, challenging gameplay, superb graphics.
More similar words:
challenge,
challenged,
scavenging,
changing,
engineering,
engine,
engineer,
heat engine,
mudslinging,
upbringing,
ringing,
bring in,
coming in,
belonging,
stinginess,
discharging,
length,
chalk,
lengthy,
at length,
lengthways,
catch-all,
arm's length,
wavelength,
hang in the balance,
hallelujah,
sullen,
pollen,
nonchalant,
at arm's length.