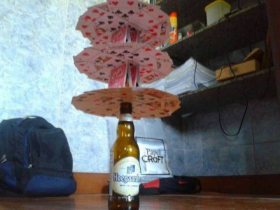 Random good picture Not show
(1) I lent her my Bob Marley tapes.
(2) Reggae music was popularized by Bob Marley in the 1970s.
(3) Bob Marley popularized reggae music in the 1970s.
(4) Bob Marley provided them with their first taste of Reggae music.
(5) Bob Marley internationalized reggae, making it known throughout the world.
(6) And the warmest welcome is extended to Bob Marley, who draws the sort of tourists that don't mind the rain.
(7) No, he was Bob Marley, a great musician.
(8) They worship James Brown, Bob Marley and Jimi Hendrix.
(9) Bob Marley, ganja, dreadlocks, cliff jumping and Montego Bay are all synonymous with Jamaica.
(10) It could be anything from Bob Marley or Bach to Iron Maiden or an unknown Finnish band.
(11) Bob Marley is the most well known singer of reggae music.
(12) Bob Marley popularized reggae music, along with the Rastafarian religion, to the world outside Jamaica. He did so, moreover, with a nearly messianic fervor and aplomb.
(13) Bob Marley and The Wailers remained virtually unknown elsewhere.
(14) Bob Marley stated that his two biggest influences were the pan-Africanist activist Marcus Garvey and King Haile Selassie of Ethiopia.
(15) Bob Marley remains the most widely known and revered performer of reggae music and is credited with helping spread both Jamaican music and the Rastafari movement to a worldwide audience.
(16) There is a Bob Marley museum on Hope Road in Kingston, Jamaica, where he once lived.
(17) Bob Marley is the king of reggae!
(18) The driver opened the door letting out a blast of Bob Marley.
(19) He is a big fan of reggae music and the late Bob Marley.
(20) He is a big fan of reggae music and the late Bob Marley[sentencedict.com], a follower of the Rastafarian religion.
(21) Che Guevara was born in Rosario and shortly after his death the revolutionary Marxist had, along with Bob Marley smoking a jazz cigarette, cornered the market in student posters.
(22) From the outset, reggae was political, as the work of Bob Marley and Peter Tosh clearly attests.
More similar words:
marley,
barley,
parley,
charley horse,
harley street,
morley,
burley,
submarine,
submariner,
curb market,
varlet,
arles,
scarlet,
harlem,
starlet,
antisubmarine,
charles,
snarled,
gnarled,
earless,
fearless,
starless,
tearless,
charles i,
gearless,
shirley temple,
sugarless,
gear lever,
harlequin,
charles ii.