Synonym:
byssus,
face fungus,
whiskers.
Similar words:
bear out,
bear on,
bear with,
bearable,
bearings,
bear in mind,
tear down,
year after year.
Meaning: [bɪəd] n. 1. the hair growing on the lower part of a man's face 2. a tuft or growth of hairs or bristles on certain plants such as iris or grasses 3. a person who diverts suspicion from someone (especially a woman who accompanies a male homosexual in order to conceal his homosexuality) 4. hairy growth on or near the face of certain mammals 5. tuft of strong filaments by which e.g. a mussel makes itself fast to a fixed surface. v. go along the rim, like a beard around the chin.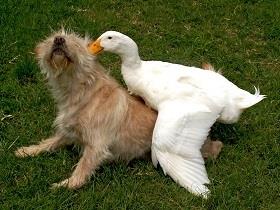 Random good picture Not show
1. If the
beard
were all, the goat might preach.

2.
Beard
the lion in his den.

3. Hares may pull dead lions by the
beard
.

4. Who's that man with the beard?
5. I don't like myself without a beard.
6. He had a sort of reddish beard.
7. He shaved his beard with a new.
8. You need to barber that beard of yours.
9. He sported a neat goatee beard.
10. If he shaved his beard he would look much younger.
11. It took courage for her to beard the board of directors.
11. Wish you can benefit from sentencedict.com and make progress everyday!
12. His beard straggles because he hasn't shaven for a week.
13. He has decided to grow a beard and a moustache.
14. He has a long, straggly grey beard.
15. He razors his beard every morning.
16. With his white beard and blue cap he looked like an old sea dog.
17. He's growing a beard.
18. A beginning beard faintly shadowed his chin and lean cheeks.
19. His chin was completely covered by his beard.
20. She finds his beard too bristly.
21. He disguised himself with a wig and false beard.
22. Somehow I can't imagine him without a beard.
23. Jim seemed to have sprouted a beard.
24. When my dad shaved his beard (sentencedict.com), he looked ten years younger.
25. She disguised herself as a man by a false beard.
26. The wound left a nasty mark on his face, so he grew beard over it to hide it.
27. He had a weak mouth which he hid beneath a moustache and beard.
28. To the best of my memory he always had a beard.
29. Graham came back from holiday with a week's growth of beard on his chin.
30. By and by she met an old man with a beard.
More similar words:
bear out,
bear on,
bear with,
bearable,
bearings,
bear in mind,
tear down,
year after year,
beam,
bean,
beast,
beach,
beat down,
be able to,
be aware of,
yard,
card,
hard,
be afraid to,
board,
award,
guard,
be available,
hazard,
toward,
pardon,
on board,
on guard,
hardware,
standard.