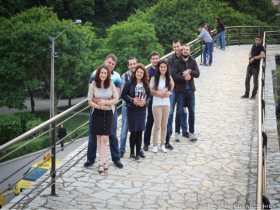 Random good picture Not show
1. You'll have to put some grease on those ball bearings.
2. They were rolling it on rusty ball bearings.
3. Many machines use ball bearings to reduce friction.
4. The football's got ball bearings in it.
5. There is nothing specific about the ball bearings: nothing that makes them more suitable to one situation rather than another.
6. Once fired, the blast would fire the ball bearings out toward the enemy and covered quite an area.
7. The safety of angular contact ball bearing in CMG under random vibration is investigated.
8. Single row angular contact ball bearing with two piece inner ring has complex construction, long design cycle, great difficulty in processing.
9. Deep groove ball bearing is a kind of crane accessories.
10. One sleeve and one ball bearing life expectance: 30,000 hours minimum.
11. Self - aligning ball bearing is a species of crane accessories equipment.
12. Ball bearing screw-aerostatic slideway assures High Speed PCB Machine' s feeding system of its high efficiency and high precision.
13. The thrust force ball bearing mainly applies to profession and so on automobile,(Sentence dictionary) engine bed.
14. Additionally, the self-aligning ball bearing has the lowest friction of all rolling bearings, which enables it to run cooler even at high speeds.
15. In design apply line-glide rail and ball bearing bar forming slipway structure, scheme out flexible replaceable clamp structure.
16. Steel sleeve of excircle and linear ball bearing bore requires sliding tie in with precision.
17. In the first system the rotation of the mouse's wheels or ball bearing are transferred to rollers.
18. A rough hunk of metal about the size of a big ball bearing was lodged in my shoulder.
19. There must be an old Navy uniform and a few ball bearings somewhere on Treasure Island.
20. On the basis of traditional quasistatic analytical method,(sentencedict.com) stiffness for angular contact ball bearing of aeroengine is studied.
21. DAC series wheel bearing is a double row angular contact ball bearing incorporating an integral outer ring and two separable inner rings which is available with seals or without seals.
22. Our main products are taper roller bearing, spherical roller bearing and deep groove ball bearing.
23. Yokesleeves ? furnished in aluminum - bronze to reduce operating torque. Most sizes furnished with ball bearing yokesleeves.
24. As the core parts for high speed motor spindle, the properties of angle contact ball bearing has effect on the properties of motor spindle.
25. Our main products are spherical roller bearing , tapered roller bearing and deep groove ball bearing.
26. The Spindle Is Manufactured From Chromolybdenum Alloy Steel, Tempered, Carburization Treated And Precision Ground. Employs Class P4 Angular Contact Ball Bearing For Superior Precision And Rigidity.
27. The utility model relates to an elastic airproof ring with high speed ball bearing leading screw pair opening, which is composed of an opening, an airproof ring body, a groove and a spring.
28. Split Plummer block, whose cap and base can be separated, mainly bear radial load. It fits for self-aligning spherical roller bearings or self-aligning spherical ball bearing.
29. When the bearing radial clearance increases, with the nature of angular contact ball bearing can withstand both directions alternating axial load.
30. The formulae of contact stress and sliding velocity of solid-lubricated ball bearings are deduced by Hertzian contact theory and kinematics of ball bearing.
More similar words:
pallbearer,
bearing,
bearings,
forbearing,
overbearing,
bear in mind,
earing,
shearing,
hearing,
gearing,
searing,
rearing,
tearing,
wearing,
bring to bear,
swearing,
clearing,
appearing,
endearing,
sensorineural hearing loss,
forswearing,
hearing aid,
overhearing,
hard-wearing,
hearing loss,
disappearing,
well-being,
wellbeing,
sense of hearing,
hearing-impaired.