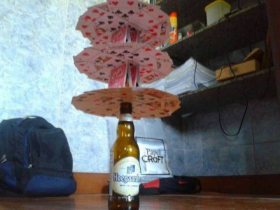 Random good picture Not show
1. He thinks he's the reincarnation of Attila the Hun.
2. Attila the Hun used large Molosser breeds in his campaigns.
3. Attila the Hun decorated his battle helmet with the figure of one.
4. On the left there is your Attila the Hun.
5. Attila the Hun is said to have died from a nosebleed.
6. Attila the Hun set up his court in the Hungarian Plain beside the River Danube .
7. Patrick Gallagher ... Attila the Hun.
8. A hard-charging corporate executive who once recommended books about Attila the Hun to an acquaintance, Mr. Sokol ranks his staff monthly based on whom he would fire first.
9. Defeated in court and depicted by rivals as a corportate Attila the Hun, he seemed bitter and angry.
9. Sentencedict.com try its best to collect and make good sentences.
10. "In his prime, Gates combined the monomania of the compulsive software programmer with the competitiveness of Attila the Hun, " said Nicholas Carr, author of Does IT Matter and The Big Switch.
11. LET'S say you can't readily lay your hands on "Leadership Secrets of Attila the Hun" or those of Winnie the Pooh.
More similar words:
attila,
mutilate,
ventilate,
mutilated,
lattice,
ventilator,
ventilated,
mutilation,
latticed,
flat tire,
ventilating,
ventilation,
unventilated,
multilateral,
hyperventilate,
self-mutilation,
latticework,
multilateralism,
hyperventilation,
crystal lattice,
over the hump,
one hundred,
be hungry for,
one-hundredth,
treasure hunt,
one hundred ten,
at that time,
wittily,
prettily,
cartilage.