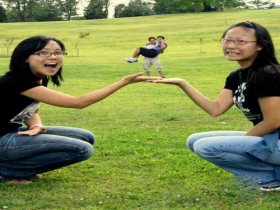 Random good picture Not show
1. V.S. RAMACHANDRAN: Offhand, I can't tell you when they started using the term "anosognosia" for other types of denial.
2. V.S. RAMACHANDRAN: Well, you can have anosognosia for Wernicke's aphasia [a neurological disorder that prevents comprehension or production of speech] or you can have it for amnesia.
3. V.S. Ramachandran has written about anosognosia in a number of journal articles and in his extraordinary book with Sandra Blakeslee, "Phantoms in the Brain."
4. Babinski and subsequent writers had stressed that anosognosia leaves most "intellectual and affective" faculties intact.
5. Confabulation triumphs over organic disease. The hemiplegiac's anosognosia is a stark example, but we all engage in the same basic process.
6. Perhaps even more troublingly,[sentencedict .com] the reaction to Wilson's anosognosia on the part of his close associates raises the possibility of an even more problematic impairment — a social anosognosia.
7. Denial of illness, or anosognosia, literally lack of knowledge of disease, is a common sequel of the type of brain injury received by Wilson.
8. His work on anosognosia is a perfect example.
9. What if the truth of Wilson's condition, his anosognosia, had been more widely known?
10. Were they anodiaphoric with respect to the anosognosia?
11. See V.S. Ramachandran, The evolutionary biology of self-deception, laughter, dreaming and depression: some clues from anosognosia, Medical Hypotheses, November 1996, 47(5):347-62.
12. It contains yet one more sanitized version of Wilson's stroke and anosognosia.
13. Our discussion of his experiences in treating patients with anosognosia is the subject of the next installment.
14. This is at the heart of Ramachandran's ideas about anosognosia — that the preservation of our fantasy selves demands that we often must deny our physical reality.
15. A little more than five years after Babinski published his first report on anosognosia.
16. When the right brain's ability to detect anomalies and challenge the left is somehow damaged or lost (e.g., from a stroke), anosognosia results.
17. I saw a lady, not long ago, in India, and she had complete paralysis on her left side, a very intelligent woman, but had both anosognosia and somatoparaphrenia — you know what that is, right?
18. Still curious about the nature of self-deception, denial and neglect, I called V.S. Ramachandran, a legendary neuroscientist at the University of California – San Diego and an expert on anosognosia.
19. He saw himself in world historical terms. He appeared to have a poor sense of his own illness (part of a condition known as anosognosia).
20. Ramachandran was taken in by a question that haunts Babinski's original work on anosognosia — the question of whether the anosognosic knows (on some level) about the paralysis.
More similar words:
prognosis,
agnosia,
nosogenic,
prognose,
prognoses,
prognostic,
cognoscenti,
cognoscente,
gnosis,
pharmacognosy,
prognosticate,
Trypanosoma,
prognosticator,
diagnosis,
prognostication,
diagnosing,
cyanosis,
misdiagnosis,
trypanosomiasis,
melanosis,
fault diagnosis,
medical diagnosis,
prenatal diagnosis,
differential diagnosis,
gnostic,
diagnose,
agnostic,
monosomy,
diagnoses,
nosocomial.