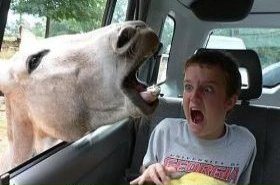 Random good picture Not show
1 The staff have been very complimentary, and so have the customers.
2 She hadn't read the letter and so was unaware of its contents.
3 Temptation comes to all of us,whether or not we succumb depends on our ability to recognize its disguise,sometimes it arrives in a form of an old flame,flichering back to lift,or a new friend who could end up being so much more,or a young child who wakens feelings we didn't know we had.And so we give in to temptation all the while knowing come moring,we'll have to suffer the consequences.
4 She was in the office all of Wednesday and so has a cast-iron alibi.
5 The rogue blew upon the scheme and so betrayed his partner to the police.
6 Lost and so far from other human life, he faced a desperate struggle to stay alive.
7 I in and so on future. Will have your future.
8 Mr Hicks is out of the country and so unavailable for comment.
9 The little girl has never seen him before and so she keeps the stranger out.
10 He likes it,and so do I.
11 Cooked garlic helps to prevent blood clotting, and so reduces the risk of heart attack.
12 The rogue blew on the scheme and so betrayed his partner to the police.
13 What with all this work and so little sleep at nights, I don't think I can go on much longer.
14 Neil left just after midnight and so did Roz.
15 And so I would say, in summary, that the campaign has been a great success.
16 I said you could go, and so you shall.
17 John couldn't get the guy to cooperate and so I had to call and chew him out.
18 We live on top of a hill and so we get excellent radio reception.
19 Life is a mirror.When you smile in front of it ,it will also smile and so will it when you cry to it.
20 Our gardener is a jack of all trades, he can do carpentering, decorating, a bit of plumbing, and so on.
21 She started telling me about her bad back, her migraines,(www.Sentencedict.com) and so forth.
22 We've got to buy some cheese, bread, butter, salad oil, and so on.
23 He's complaining of all the usual flu symptoms - a high temperature, headache and so on.
24 He reported to a section chief, who reported to a division chief, and so on up the line.
25 They claim that the wine is for personal use and so evade the duty.
26 There wasn't time to finish all the games last night and so some have had to be carried over until next week.
27 She spends her day doing housework, watching television, reading, and so on.
28 Right now in Congress, they're fiddling around with the budget and so on.
29 The water rate is the payment in Britain for water when it is supplied to houses and factories and so forth.
30 Charles Bright thought it dangerous to lay the cable in these conditions; and so he shouted to the men to stop the machine.